A MUST online resource for glbt people to connect in community:
The Gay Christian Network, an online community of over 20k LGBT Christians and their allies  worldwide.
Gay Christian Europe, a multilingual online community of LGBT Christians in Europe.
The Reformation Project, training gay and transgender Christians and allies to transform the church.
**********************************
Below is a listing of the denominationally-based or denominational style Open & Affirming  and Welcoming Churches  and other organizations that include welcoming congregations and ministries.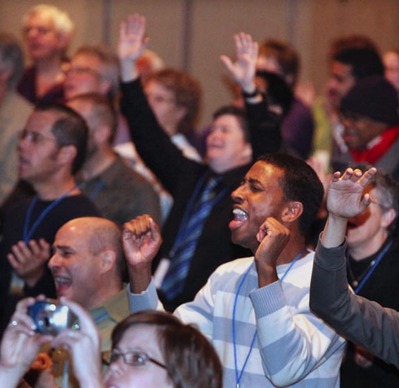 Welcoming Churches   An excellent resource to find open & affirming churches in your area and in most areas of the world.
Affirm United  United Church of Canada
Association Of Welcoming & Affirming Baptists     American Baptists, Alliance of Baptists
IntegrityUSA  Episcopal Church USA
More Light Presbyterians   Presbyterian Church (USA)
Dignity   Roman Catholic Church
Welcoming Ministries of the Gay, Lesbian & Affirming Disciples (GLAD) Council      Disciples of Christ
Open and Affirming Program of the United Church of Christ Coalition for LGBT Concerns      United Church of Christ
Reconciling in Christ Programs of Lutherans Concerned/North America      Evangelical Lutheran Church in America and Canada
Reconciling Ministries Network   United Methodist Churche
Room for All   Reformed Church in America
Brethren Mennonite Council for Lesbian, Gay, Bisexual and Trangender Interests  Brethren Mennonite USA and Canada
Welcoming Communities Network  Community of Christ
The Evangelical Network  Evangelical Churches and Ministries
Joshua Ministries   Pentecostal Churches
Reconciling Pentecostals   Pentecostal Churches
The Fellowship   Black Protestant and Pentecostal
If you are a leader of an Open & Affirming Organization, please send me the organization website and short details. If you are a welcoming church, contact the first listing and ensure that your faith community is listed in the directory.